The castle chateau de Javerlhac is a renaissance construction.
The edifice is recognized by the french ministry. It is family owned so therefore unavailable to visit.
The first mention of the chateau of Javerlhac dates back to 1225.
It was burnt down by Edmond of Langley earl of Cambridge - 1st duke of Uork, fourth son of king Edward III of England (5th June 1341-1st August 1402). In the year 1362 aged 21 years he was created earl of Cambridge. This period was of the Hundred Years' War.
The first lord of chateau was known as Renout (1225). Then his son Bernard Ramnulphi (1248) and Aymeric Vigier.
Of the first buildint remain certain foundations of walls and frustrated openings.
In 1499 Dauphin Pastoureau received for the viscomte of Limoges the taxes and rentes of the chatellerie of Nontron. He buys the lordship of Javerlhac and restores chateau, church, mill and dovecote (la fuye).
In 1507 Barthelemy Texier and his wife Jeanne Pastoureau own the castle. The branch of Texier, marquis of Javerlhac disappeared in 1821. A farmer then bought the property. Later Fompuy-Boulouneix, Mousnier-Lomprie and now the family Pelpel-Rochette.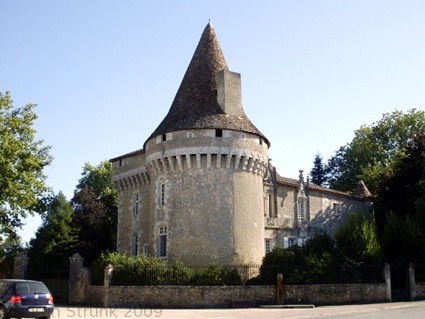 Two other lords would hve been proprietors of th chateau. However the dates still need to be verified:
Louis of Rochechouart – in fact many Louis are known, 3 in the 14th century and one other lived from 1550 to 1590.
Jehan of Maulmont (16th century) was also the prorietor of chateau of Viellecour (commune of Saint-Pierre-de-Frugie) – been given that Dauphin Pastoureau bought the castle in 1499, it was probably one of his ancestors.
---
Creation date : 07/02/2012 ! 22:47
Last update : 08/02/2017 ! 12:01
Category : - Javerlhac history
---