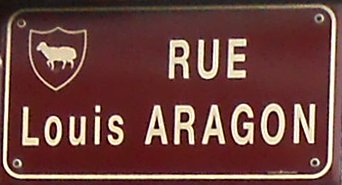 Rue Louis Aragon, Javerlhac
Louis Aragon was a French poet, author, born 3re October 1897 in Paris, died 24th December 1982 in Paris.
Louis Aragon street is a little hidden in Javerlhac. It starts at the Place Du Foirail. When we discovered it, we wondered, if their was an elected person who liked the poems of Aragon and would have proposed the name.
The truth has more charm, indeed in 1940 Louis Aragon and his wife Elsa Triolet lived in Javerlhac.
The historical context
Despite Louis Aragon being the age of 42 years in 1939, he was mobilized at beginning of World War II, the reason being his membership with the communist party. It seemed to be a kind of punishment.
January 1940: He was assigned to the 3re DLM (light motorized division) until 5th April 1940 (northern departement): The division went to Condé-sur-Escaut following the attack of the German Forces on 10th May the French withdrew and on 29th May the regiment arrived at Dunkerque where Aragon was evacuated to Plymouth (England) by english boats. The very next day he arrived back in France at Brest. By then he was promoted to adjutant.
10th June – The French government leaves Paris for Tours, then to Boredeaux.
14th June – The German army occupies Paris.
17th June – Marshal Philippe Petain calls for the fighting to stop.
18th June – General Charles de Gaulle speaking from London (England). He declared that the war was not yet over and rallied the country in support of the resistance. It is regarded as one of the most important speeches in French history.
20th June – Bombardment of Bordeaux.
22nd June – The armistice of Bordeaux.
24th June – German troops arrive in Angoulême and take thousands of soldiers as captives. However, they are released after a few days.
29th June – The French government settles in the free zone at first in Clermont-Ferrant then Vichy.
The arrival of Louis Aragon and Elsa Triolet in Javerlhac
The sources are contradictory so it is advisable to check the archives.
According to one source, at the time of the armistice, the division to which Aragon belonged (8th regiment) was stationed in Riberac.
Yet, another source mentions Aragon was made a prisoner of war in Angoulême around 20th June and fled almost immediately with 30 men and vehicles to reach Villetoureix by the 26th June and stays at least until the 28th at Riberac.
It is in this town he discovers Troubadours of the middle ages especially Arnaut Daniel (La leçon de Riberac ou l'Europe française [The lesson of Riberac or the French Europe]) published in Fontaine No 14, June 1941.
Elsa Triolet (born 12th September 1896, Moscou, Russia, spouce of Louis Aragon 1939-1970, died 16thh June 1970 Saint-Arnoult-en-Yvelines). The movie 'Roses à Crédit' (2010) is based on her novel of the same name from 1959.
At the beginning of the war Elsa Triolet lived in Paris. Elsa was jewish and a communist, which made her life difficult. 10th of June 1940 she leaves the Paris in a diplomatic car which belonged to the Chilean embassy, with the help of an advisor Arello Marin. (The consul Pablo Neruda was also a friend of Elsa Triolet.)
Elsa arrived in Bordeaux on the 14th June. Then she lodges at Arcachon where she hears that Petain calls a stop to the fighting. The 17th June Aragon succeeds in forming her that he and his regiment were in Riberac. In a Pontiac car which belonged to the diplomatic core of Chile she drives to Riberac. However, once in Riberac a high ranking soldier tells her that Aragon has already left for Javerlhac, wher she finally finds him after a detour of 100 km to avoid passing the demaration line.
The reunion dates vary consideraly according to the source. On the 16th June she retuned to Arcachon to search for her belongins, however the dates 17th, 24th and 29th are also mentionned. It seems to be established that the poet Louis Aragon wrote during his stay in oure commune 'Les Lilas et les roses'.
Elsa Triolet wrote a lot during her stay in Javerlhac. It will certannly be necessary to read her books and to immerse ourselves in the archives in order to discover clues.
The 29th of July Elsa Trolet wrote to the editor Robert Denoel, who was at Souillac: 'I was able to find Louis after barely a few miracles and we have been together since the beginning of the month. Javerlhac is a charming little country much smaller than Souillac, but if it's raining it's a scandael especially when you have nothing else to do than walk around.'
Aragon is demobilised 31st July in Nontron.
---
Creation date : 07/02/2018 ! 10:07
Last update : 19/07/2019 ! 14:38
Category : Menu - Javerlhac history
---