News
Le dimanche 20 février à 15 heures 45 au Domaine de Montagenet,
l'association CLAVICORDE aura le privilège de proposer un concert exceptionnel par le grand violoncelliste
Jérôme Pernoo
qui interprètera
Six SUITES pour VIOLONCELLE SEUL
de Jean-Sébastien BACH
Jérôme Pernoo joue au Carnegie Hall de New York, à la Philharmonie de Berlin, au Wigmore Hall de Londres, au Théâtre
Réservations : 05 53 56 00 39 (Laisser un message) ou par internet
Respect des règles sanitaires en vigueur à la date du concert
prix d'entrée
Non adhérents : 18€Adhérents : 15€ Scolaires : 10€Enfants : gratuit
Le Domaine de Montagenet est situé sur la commune de Saint-Martial-de-Valette, près de la D75 direction Angoulême, à 3 km de Nontron.
Au plaisir de vous accueillir.
Association CLAVICORDE
24300 JAVERLHAC ET LA CHAPELLE SAINT ROBERT
REYDY @oORANGE.FR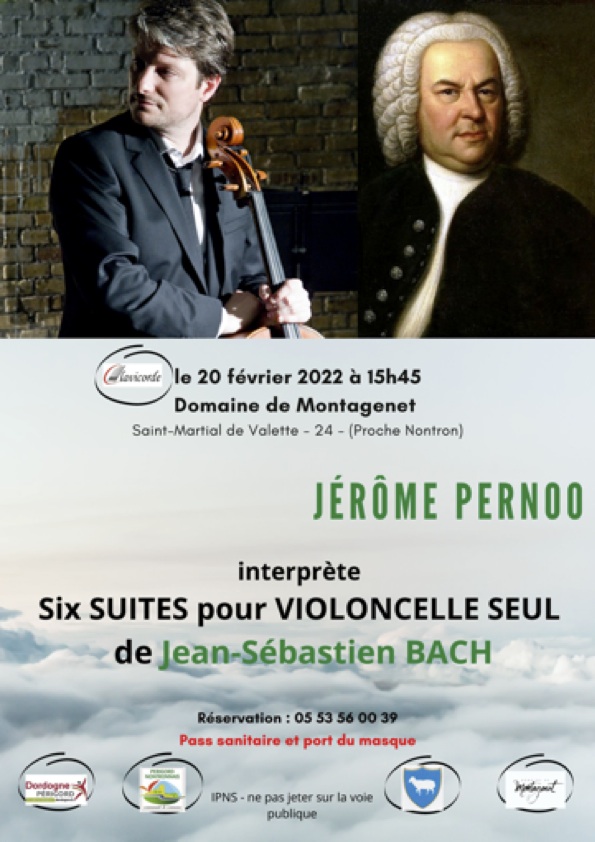 Our association just published "Les bonnes fontaines du Périgord Nontronnais" written by our president Sigrun Strunk in collaboration with Yvette Eudes a farmer who tress to discover all our ancient holy fountains.
Where to buy the book - librairie / tourist information in Javerlhac on wednesday morning or contact the authors fontaines@javerlhac-tourisme.com.
Contact us to buy the book at fontaines@javerlhac-tourisme.com or buy the ebook available on most online bookshops.